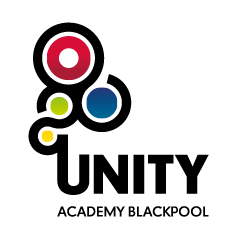 Apply Now
Academic Tutor and Mentor - Unity Academy Blackpool

Academy:
Unity Academy Blackpool

Contract:
Temporary

Salary:
NJC Pay Scale, Grade D

Closing date for applications:
19 May 2022, 9.00am
Unity Academy Blackpool
Academic Tutor and Mentor
Salary: Grade D (SCP 7-11) on the NJC Pay Scale currently £17,562 - £19,009 (actual salary)
Contract: Temporary 1 year contract - 37 hours - Term Time only plus 5 days
Start Date: 30 August 2022
Unity Academy Blackpool
Unity Academy is an all through school for children aged 2-16, we are an inclusive academy which is committed to providing the best possible education for all the children within our care. Our curriculum is developed to ensure progression across all ages with many of our systems and processes being designed to work for children right the way through the school. The school motto is 'In Unity, we succeed' and this is at the heart of what we believe, In Unity everyone works together to be successful. The staff team and supportive ethos amongst colleagues is second to none and this complements the support, care and guidance we provide to children.
The Academic Tutor and Mentor is a key position and we are seeking to appoint a candidate who dynamism, commitment, energy, professional expertise and experience quality them to take on this exciting and challenging role.
The Academy's sponsor is FCAT, the Fylde Coast Academy Trust. You would be joining the growing 'family of schools' within FCAT which will provide outstanding opportunities for future professional growth and potential promotion. This post represents an excellent opportunity for any teacher who wishes to join a strong team at our academy as we continue our journey to being the best we can be.
The Candidate
We are looking for a candidate whose commitment, energy, professional expertise and experience qualify them to take on this exciting and challenging role. The successful candidate will be a teaching assistant. We value the fundamental need to work together to achieve our goals, and only by doing so can we be certain that "In Unity, we succeed"
A commitment to inclusion is essential for these role
The Role
The successful candidate will challenge education and social disadvantage by closing the academic gap and achieving the highest possible standards to prepare all Unity Academy's looked after children (LAC) to lead successful lives. Our ideal candidate will contribute and support inspirational learning experiences in a stimulating environment and be committed to excellence, inclusion and challenge. The role will be fluid and dynamic and we need an individual who is very adaptable and keen to embrace change.
What can we offer you?
A challenging, ambitious and supportive place to work.
Annual appraisal, access to comprehensive CPD and career development opportunities.
A commitment to the FCAT well-being charter
A comprehensive discount package provided by a third party partner.
Please visit our websites to learn more about our Academy and Sponsor FCAT:
www.unity.blackpool.org.uk
www.fcat.org.uk
How to Apply
For further details please go to the FCAT website [www.fcat.org.uk] and complete an Online Application Form.
Should you have any questions about the position or application process, please contact:
Karen Linney at k.linney@unity.fcat.org.uk or on 01253 355 493
Closing time and date for applications is 9.00am on Thursday, 19 May 2022
Shortlisting to take place on Friday, 20 May 2022
Assessment and Interview Day to be held w/c 23 May 2022
The Fylde Coast Academy Trust is committed to equality of opportunity for all. Fylde Coast Academy Trust is fully committed to safeguarding and promoting the welfare of all learners, staff and visitors. All staff will be carefully selected using recruitment and selection procedures designed to emphasise our commitment to safeguarding. All posts, including volunteers, are subject to enhanced DBS clearance.
FCAT support staff employee contracts must not exceed 37 hours per week.
Employees are able to have multiple posts within the trust, however, the total number of combined contracted hours cannot exceed 37 hours per week.
This is in line with the Green Book support staff terms and conditions of employment and also supports our Team FCAT Work and Wellbeing Charter.
Documents