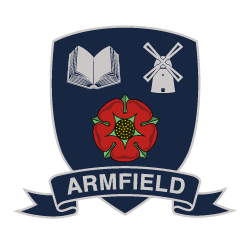 Apply Now
Behaviour Manager – Armfield Academy

Academy:
Armfield Academy

Contract:
Permanent

Salary:
NJC Pay Scale, Grade F

Closing date for applications:
8 July 2022, 9.00am
Behaviour Manager – Armfield Academy
Salary: NJC Pay Scale Grade F SCP 19-24 (currently £25,927-£29,174 FTE per annum).
Contract: Salary is pro-rata Term Time + 5 – 37 hours per week
Start Date: 30th August 2022
Firstly, thank you for your interest in becoming part of the Armfield Academy staff team. This is a very exciting and unique opportunity in helping establish our brand new school; developing policy and procedures and putting these into operation so that we become "an Academy to be proud of".
We opened in September 2018 on Lytham Road, South Shore with children joining the school in Reception and Year 7 only. This will then be repeated in the following years which enables the school to grow. Our nursery provision opened in January 2019. Staffing numbers will increase year on year until the school is at full capacity. The Academy, named after Jimmy Armfield, has the strapline "an Academy to be proud of". It therefore relates very much to traditional British values and supports the core values of our Trust; pride, ambition, respect, resilience, integrity and excellence.
Armfield Academy is part of the Fylde Coast Academy Trust (FCAT) and is our second "all-through" school. FCAT is a Multi Academy Trust with 10 primary and secondary schools across the Fylde Coast and Lancashire with a proven track record of delivering rapid improvement in progress and outcomes. Our aim is to ensure first class learning opportunities for all young people. Learners are at the heart of what we do and their outcomes and successes are what drive us to be the "best we can be"!
The Behaviour Manager post is a key position within our brand new academy to work 37 hours per week, term time plus 5 days. Behaviour is an essential aspect of a successful community and academic success. The role of the Behaviour Manager is to assist in the promotion of outstanding behaviour by working in partnership with all stakeholders and the wider community. The Behaviour Manager will work directly with all stakeholders in a non-judgemental way, encouraging, challenging and supporting improvements in behaviour at an individual, cohort and whole school level.
This is an exciting opportunity and we are looking for a colleague with passion and interest in supporting children to improve their reading to join Armfield Academy. You must have the desire to work with pride, ambition, respect, resilience, integrity and excellence so we can be the "best we can be!"
Your application should state clearly why you are the ideal candidate for this role. To apply for this post please visit our website and complete the online application form and equal opportunities form at www.fcat.org.uk/job-vacancies
Closing time and date for applications is 9 a.m. on Friday 8th July 2022
Shortlisting to take place on or after the afternoon of Friday 8th July 2022
Assessment and Interview Day to be confirmed 2022
For any questions regarding the vacancy please contact Karen Ashton at k.ashton@armfield.fcat.org.uk
Thank you again for your interest in this post and I look forward to receiving your application.
Sean Bullen Mark Kilmurray
Executive Headteacher Armfield Academy Headteacher Armfield Academy

The Fylde Coast Academy Trust is committed to equality of opportunity for all. Fylde Coast Academy Trust is fully committed to safeguarding and promoting the welfare of all learners, staff and visitors. All staff will be carefully selected using recruitment and selection procedures designed to emphasise our commitment to safeguarding. All posts, including volunteers, are subject to enhanced DBS clearance.
FCAT support staff employee contracts must not exceed 37 hours per week.
Employees are able to have multiple posts within the trust, however, the total number of combined contracted hours cannot exceed 37 hours per week.
This is in line with the Green Book support staff terms and conditions of employment and also supports our Team FCAT Work and Wellbeing Charter.
Documents